Claire Adler: Dior's lavish London extravaganza is a "transmission of couture"
[portfolio_slideshow include="1974″]
London's department stores have long been amongst the city's top attractions. This spring Dior and Harrods staged a mega-sized exhibition on an unprecedented scale.
BY CLAIRE ADLER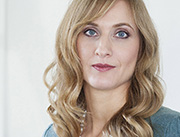 Dior bliss has descended on Harrods.
In an extravaganza 18 months in the making, a Dior Café, a So Dior temporary museum, a window display spanning the length and breadth of Harrods, and a pop-up shop offering limited edition accessories, toys, and umbrellas are celebrating Dior's 60-year relationship with the famous London department store.
In a Dior version of total immersion, there were limited edition Dior teddy bears, Dior manicures, Dior cupcakes presented in mini hat boxes, and Dior perfume bottles suspended to look like English rain. There was a silver sequined dress worn by Audrey Hepburn for a 1959 Harper's Bazaar shoot, the spangly gold dress worn by Charlize Theron in the J'adore perfume advertisements, a dress worn by Princess Diana at the peak of her beauty and the original Bar suit, usually housed in France and never moved, that launched Christian Dior's New Look in 1947. Also on display were the dresses worn by Julianne Moore and Jennifer Lawrence at this year's Oscars.
The majority of the exhibition's contents were transported by a fleet of trucks and Eurostar direct to the Knightsbridge store. But when heavy rain in Paris just days before the exhibition meant some important items were stranded at Dior headquarters, rumors ran that Dior flew them in at the final hour by private jet.
The pop-up store proved a success within just one day of opening, securing over £100,000 of sales before 5pm. Some limited-edition items were sold out at the opening night's party, which was attended by Dior chief executive Sidney Toledano and London's glitterati.
Christian Dior was a huge fan of the English and had a particular fondness for Harrods. In 1954 he staged a fashion show on the third floor of the legendary emporium.
Devoted English followers of Dior range from prima ballerina Margot Fonteyn, Princess Margaret (the Queen's late sister who wore Dior for her 21st birthday), Elizabeth Taylor, and Princess Diana, who helped turn the Lady Dior bag (named in her honor) into a Dior icon.
Perhaps unsurprisingly, limited-edition Lady Dior bags in red Scottish tartan exclusively available at the Dior pop-up shop in Harrods were sellouts. Other limited-edition pieces included a one-of-a-kind white gold and black ceramic watch encrusted with rubies, pink sapphires and diamonds, priced at over £250,000. Makeup created specially for the occasion included the Dior Claridges eye palette and Vernis nail polish in Windsor.
Inside the exhibition on the fourth floor of Harrods, a giant doll's house contained miniscule furniture made using J'Adore Dior perfume bottles, dresses worn by Dior's clients, black and white photography, videos explaining historic campaigns and London landmarks from Royal Mail post boxes to telephone boxes all given the Dior treatment.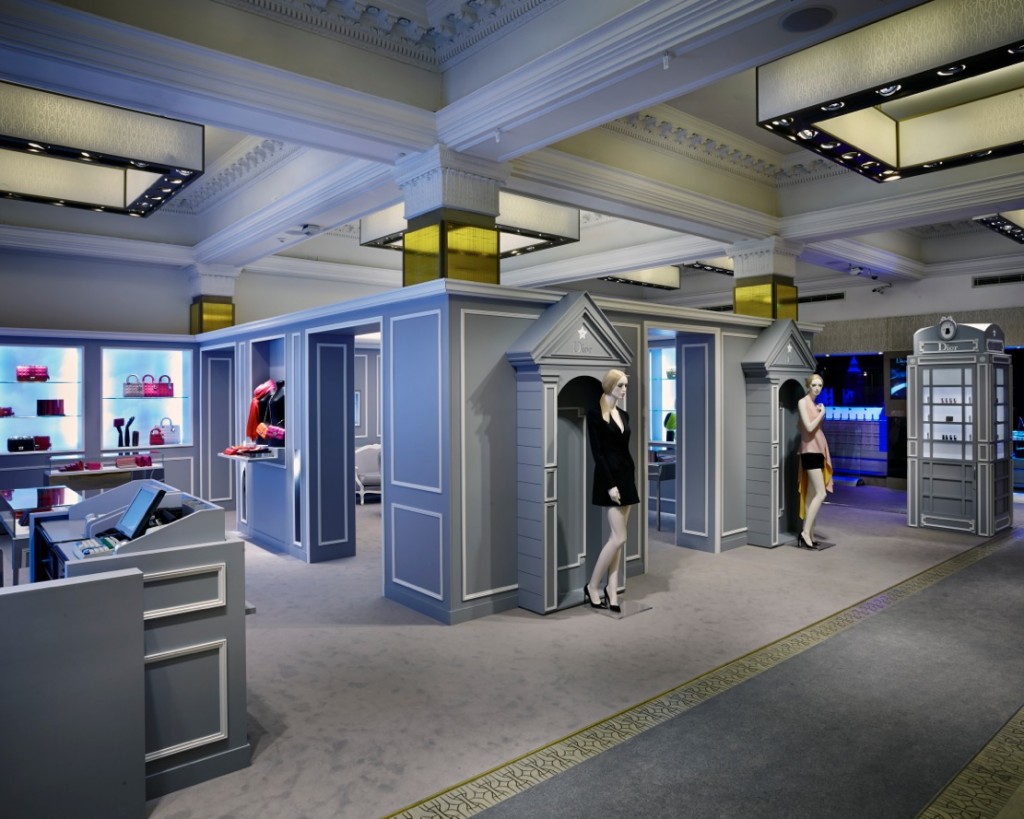 Dior stamped versions of London's best-known attractions, from the London Eye, to Tower Bridge and the Houses of Parliament – even the appalling weather –adorned the Harrods windows.
From Harrods and Selfridges to Fortnum & Mason, which just recently opened its own jewelry salon, London's top department stores have a long history of taking luxury shopping very seriously indeed. This June in the ground floor of the London branch of Selfridges, expect to find a Formula One car that's been transformed into a simulator for visitors to trial in a virtual wind tunnel, courtesy of Swiss watch brand IWC.
When interviewed by Vogue recently, Christian Dior CEO Sidney Toledano somewhat mysteriously said Dior's showstopping presence at Harrods wasn't a promotion.
"This isn't a marketing tool," claimed Toledano at the launch party, then explaining: "It's a transmission of couture. Customers look for more today, they want to hear about the brand history – they need to understand more… When I come into this room, it works so well. Mr Dior is doing something – he is here."
Marketing tool or not, the entire high octane Harrods wonderland was designed to mesmerise, to encourage visitors to immerse themselves and linger in the world of Dior. According to those in the know at Harrods and Dior, the philosophy and the financial investment have definitely paid off.
The Dior Café, inspired by a recipe book Christian Dior published in 1972, was fully booked every day. The event attracted more than 50,000 visitors over the course of a month. Dior communications director Olivier Bialobos referred to the sales as "tremendous."
One of Harrods' most successful luxury brands in the beauty, fashion, accessories, watches and jewellery departments, Dior has also reported more than double year-to-date growth at the store in the last year.
"The luxury market is changing – a successful luxury brand needs to have a point of difference, there needs to be a reason to buy," said Harrods' chief merchant, Marigay McKee. "Luxury is about a dream investment and finding products that are unique. Our customers love Dior creative director Raf Simon's curved heel Dior shoes – we can't keep them in stock. They're modern, they're sexy and timeless."
Those who didn't make it to London for the event might be pleased to know both Harrods and Dior have confirmed they are now planning similar collaborations in the future.
-May 2013
Claire Adler writes on luxury jewellery and watches for the Financial Times and consults luxury brands including De Beers and Fabergé. www.claireadler.com.