Lauren Cerand: Aphrodite and the Hundred Years Rule
Birthday promises and enchanted encounters in New Orleans
BY LAUREN CERAND
What I want most for my birthday is to be reborn. I fly first class in a white dress to New Orleans, and as I step off the plane, I can feel the fog lift as the heat settles around me.
My mother was born and raised just across the lake in Slidell, a place I've never been. When I asked her once if she was forbidden to do anything, she paused for a moment and said that the one rule her father set down was never to cross Lake Pontchartrain and go into New Orleans. "Did you?" "Every weekend."
My parents were married here and their wedding, which lasted a week, included a bus with a bar driving everyone to Mississippi for the service, and a party so wild that when they returned they postponed their honeymoon, was the dominant legend in my life.
As a teenager, I dropped out of public school with no plans to go to college. My best friend thrust a guide, well-used by her large family, into my hands. I flipped idly through it until I came to Loyola. That sounds nice, I thought, and, in the end, that's where I went. I spent the year trying to be somewhere else, obsessed as I was with getting into Cornell, and always wished that I'd been more dissolute, more patient, more alive. I returned to visit for a few years, and later with a new love. I haven't been back since.
The taxi pulls up to the Monteleone, grand and family-owned, with literary connections (references to Hemingway, Capote, and Tennessee Williams are everywhere). I tip the driver well and am surprised when he clasps my hand. I check in and find out that the computers are down, and so they are "doing everything the old-fashioned way."
I lived here on campus in the Garden District, and so I first entertain the idea of old habits, such as taking the streetcar up to Camellia Grill, just around the bend. I decide to go for a walk first. An hour or so later, in the French Quarter, I have already resolved to only go places that have been open for a hundred years, perhaps fifty in a pinch.
I head for Cafe du Monde, which remains unchanged, right down to the mournful trumpet player. I walk, and I walk. I'm so used to rushing that I struggle to pass the time.
I think of Perikles' eulogy for Athenian warriors, which I copied down last week at the Met in New York ––
"We have provided for the spirit many relaxations from toil; we have games and sacrifices regularly throughout the year and homes fitted out with good taste and elegance; and the delight we each day find in these things drives away sadness… We are lovers of beauty yet with no extravagance and lovers of wisdom yet without weakness." 
–– and I order another au lait.
Eventually, I walk in to Galatoire's, where a man in a tuxedo stands sentry. He swings open the door and I am enveloped in the cool elegance of timeless style, white and green and gold and burnished wood. I manage to shock a man on Bourbon Street when I ask for a gin rickey. His face (77, Cajun, born and raised in Louisiana, he later tells me) lights up: I haven't heard that in fifty years.
I return to the hotel for one of those naps that is between this world and the next, and wake to train whistles and rolling thunder, and the sound of a full band on the sidewalk.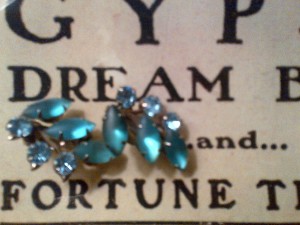 I stroll down to the lobby for drinks in the Carousel Bar with a reporter for the local paper. She gives me a pair of exquisite blue earrings that I slip on immediately. She lives by the racetrack, and has had admirable affairs since moving here. We're joined by a friend of mine who I met when she gave me a memorable tarot card reading on my birthday last year that profoundly affected my outlook for the year. She lives in New York, and our trips happen to overlap. It feels poetic to be with her one year later, here.
We go to Antoine's, circa 1840, for dinner, and I encourage the waiter to pursue his true love. "She doesn't know," I say. "I'll tell her someone was sent to tell me," he replies. The night, my last of 33, feels cloaked in magic and happiness and genuine good will. I think of the evening, even as it dreamily unfolds, as one last offering to a closing year.
In the morning, I wake up 34, and read Martha Gellhorn's collection of essays, Travels with Myself and Another. Of her first husband, she says, "[Hemingway] always had the right idea about pleasure, which is grab it while you can." I make a promise to myself.
I have lunch at Napoleon House, with the obligatory Pimm's Cup. The waiter clasps my hand on the way out. "Come back," he says, "I'll be looking for you."
At Faulkner House Books, a store I return to at least once each day, I pick up The World That Made New Orleans, and am immediately enthralled. I want to find a quiet place to read it all afternoon, and less than an hour later I am aboard a steamboat, the Natchez, chugging lazily away from the city, perched in a shady spot at a table on the top deck.
I think back to a phone call from my mother that morning, and something she said: They call it the Crescent City because it hugs the shore like the moon.
As the steamboat pulls away slowly from the bank, a whistle blasts. It wasn't a train that I heard. The pace and rhythm of life is set by the water, no longer the bustle at its edge.
That night I have dinner at Broussard's where my parents had their wedding dinner. I sip Perrier-Jouet, and take in the glamour, which far surpasses anywhere else I've been. I admire the gilt mirrors and twinkling lights in the garden, and eat three kinds of oysters.
Afterward I have a nightcap in the courtyard of the hotel where their wedding party went on for a week. It has a different name now but I recognize the lions on the fountain from the pictures. I think of how everyone tries to avoid suffering, and I realize that the cost of being alone may be more dear than my wish not to hurt anyone else. I sit outside in the cool night air, on my birthday, on the dawn of a new year, and I think about love.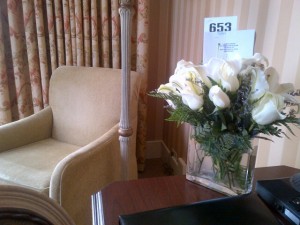 The next day, an old, dear friend of mine, a novelist, flies in from Los Angeles to take me to lunch, an extraordinary gift. He has a Diptyque candle for me, the Tuberose scent. He says he once thought of buying me a fragrance it inspired in a little out-of-the-way shop in Paris. Have I heard of it? I smile. It's the one I've worn for years, although I seldom travel with it, and he seldom sees me in New York.
We meander around the Quarter and discuss everything, given how rare it is to actually see each other. Spotting my white dress and white flower crown, a tuba player starts up "Here Comes The Bride" as I cross Jackson Square. I laugh and say, it's my birthday.
At Commander's Palace, my friend requests sublime songs that the musicians have no idea how to play. I ask for "Moon River," and they happily oblige. We end up on the veranda at the Columns Hotel, knocking back Sazeracs and idly chatting in the way that old friends do, about writing, people we know, his daughter, everything we can. We have one last drink, and he's off to the airport with an open invitation to L.A. for me.
As for the street car, I never take it, although I watch it rumble by and think of all the things I did while I waited it for it at age eighteen: mostly pout, smoke, scheme, kiss in the moonlight. I was waiting for something certain to come slow, and I filled the void. I wonder where I do those things now, without distraction, letting their full essence bloom.
I have a hankering for a sack of Krystal burgers that I let pass. Hundred Years Rule. Instead I walk for a while in the rain and let the big drops splash into my upturned palm.
The air conditioning is so habitually turned up everywhere I go that it's more pleasant to be outside. My days are guided by a long lunch, followed by a nap, and then a flaneur's entry into the dense cool of the evening. I see how people have lived this way, always.
Music is everywhere, and it seems unnatural to contemplate its absence once I leave.
I tip lavishly and extravagantly, thinking back to a pageant for a goddess I attended at a mountain ashram once. Each person, after an evening of offerings, prayer and ritual, was invited up to make a wish. Having awakened at sunrise to meditate, I fell asleep.
Soon I am at Preservation Hall, my teenage haunt, curled up on the cushions on the floor in the front row. The band leader riffs on the lyrics to St. James Infirmary, and I hum them for days afterward: "Search this world over / never find a sweet sugarlips trumpet player like me." As soon as the set ends, the trombone player leans forward, offers me his hand, and helps me to my feet. I leave a little extra money in the plate.
Could I stay here? Why did I stay away so long?
At Commander's Palace, I blow out the birthday candle. I silently mouth my wish.
—–
Lauren Cerand publishes notes on living at luxlotus.com. The team at Sparkle would like to wish her a very wonderful birthday month.
-June 2013
—–
Also by Lauren Cerand:
Postcards from the Fairy Kingdom