Sparkle exclusive | Anna Hu, virtuoso jeweler set to take on the world's greatest luxury powerhouses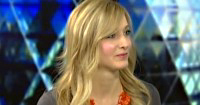 BY CLAIRE ADLER
There is an unabashed confidence about Anna Hu that is striking. Her words convey the intensity and spirit of a woman on a mission who will let nothing stand in her way.
"I am insatiable and ambitious and my vision reflects that," says Hu, who launched her company, Anna Hu Haute Joaillerie, in 2007 at the age of 30. "I will be designing rare, artful jewels for at least another 50 years. My dream is to become the Coco Chanel of fine jewelry and to build a maison as she did, one piece at a time, with a conviction and a vision all her own. Luckily, I am young so there is time and my work ethic is relentless."
In November, Hu launched a butterfly-focused collection to celebrate her brand's eighth anniversary, and marked it with a gala dinner at her boutique at the Mandarin Oriental in Taipei. "It was a very intense yet fulfilling experience as each exotic and one of a kind butterfly represents each remarkable year of my brand's existence. I am very proud of this collection."
There is something of a fighting spirit about Hu, which is perhaps unusual for someone who was born into a glittering, privileged world of precious gemstones—Hu's father is one of Taiwan's leading gemologists and diamond dealers. In addition, Hu's jewels are nothing if not arias to femininity and gentleness. Floral, dramatic, intricate, and vivid constellations of natural color, they appear to be a celebration of life and womanhood. These are jewels which do not even hint at Hu's inner warrior.
Thriving in a 'male-dominated empire'
Anna Hu's creativity is driven by two life missions, one professional and one personal. Hu has taken serious note of something: Among the world's top jewelers, the list of CEOs is dominated by men. Admittedly, Chopard and Moussaieff are notable exceptions on this imbalanced jewelry landscape, but the picture makes no sense for an industry whose raison d'etre is to cater to the most glamorous and powerful women on the planet.
"When you look at the fashion world, you have so many powerful women. But in jewelry there are very few. From Tiffany and Cartier to Van Cleef & Arpels, Harry Winston and Graff, it's a Western male-dominated empire," says Hu. "This makes me feel that I can offer something interesting. I've had a very international upbringing and lifestyle, so my approach and aesthetic reflect that. I aspire to be the first female-led jewelry house among these venerable maisons."
A daring career switch
The second challenge Hu is successfully tackling is a very personal one. Growing up in Taiwan, Hu was a musical prodigy and national cello champion who performed alongside French-born Chinese American cellist Yo-Yo Ma—a former child prodigy himself and holder of 18 Grammy awards. Hu dreamed of becoming a world-class cellist, practicing eight hours daily. But in doing so, she severely injured her shoulder and doctors told her she could only practice 30 minutes a day.
"My teacher said I would never reach perfection that way, so becoming a soloist became impossible," remembers Hu. "I knew that chamber music or orchestras were not in my DNA, so my dream ended there. This realization was like thunder striking my heart."
Hu was forced to rethink her life and re-invent her future and she has brought her innate determination and imagination to the task. Her daring career switch began when Hu's father, who noticed that as a child she had played with gemstones as if they were musical notes to create melodies, suggested she take a course at the Gemological Institute of America. Hu would go on to study at New York's Fashion Institute of Technology, Parsons School of Design, and Columbia University before working for Van Cleef & Arpels and Harry Winston. At Harry Winston she met her mentor, senior designer Maurice Galli, who took her on as his only private student. He would later inspire her to strike out on her own with the life-changing proposition: "Don't be a caged bird."
Today, Hu's fighting spirit is clearly working its magic.
Auction house darling
"In just eight years, Anna Hu has become a recognized name in the world of jewelry design, selling record-breaking creations at auction and catering to Hollywood celebrities," says Rahul Kadakia, Christie's international head of jewelry. "She uses important gemstones and fuses them with Asian sensibilities to create delicate jewels favored by collectors worldwide."
Hu creates 30 to 50 one-off pieces annually with the help of French-trained artisans in New York and Paris. Alongside a thriving bridal business, she has opened stores in New York, Shanghai, and Taipei. In 2012 she became the first Asian jeweller to have a solo exhibition at the Louvre's Musee des Arts Decoratifs in Paris and published her first limited edition book, Symphony of Jewels: Anna Hu Opus 1, showcasing 100 of her works. Her jewellery has been worn at events including the Met Gala and the Oscars by Madonna, Gwyneth Paltrow, Emily Blunt, and Naomi Watts.
In 2013, Hu's jadeite Orpheus ring sold at Christie's Hong Kong, soaring more than five times past its pre-sale estimate of $500,000, fetching $2.59m, while at Christie's Geneva, her Cote d'Azur brooch sold for $4.6m.
"In life, you have many moments, but not all are linear," Hu says philosophically, when asked to identify the moment she chose to be a jeweller. "Growing up, all I ever wanted was to be an exceptional cellist like Yo Yo Ma. But moving from music to design has been natural for me, not so much a transition as an evolution. I've evolved from a performer to a composer."

Looking ahead
Anna's next book of 100 Masterpieces, Symphony of Jewels: Anna Hu Opus 2, will be published in 2017, five years after Opus 1, which debuted at Paris Couture in 2012.
Anna doesn't participate in any annual art or jewellery shows. She says: "We are religious about maintaining our exclusivity, a promise that very few brands actually deliver on with their extensive distribution models. We choose to cultivate and nurture direct and personal relationships with our clients. Thus, we do not wholesale and have no plans to participate in any shows or fairs."
Other plans include a major exhibition to coincide with the launch of Opus 2. "We're continuing our plan to provide personal jewelry services to the world's most distinguished and discriminating tastes. The brand will continue to grow organically while maintaining its brand promise of exclusivity and rarity. We will announce a major global exhibition in the coming months to coincide with the launch of Opus 2."