Sparkle exclusive: Meet the 27-year-old head designer at De Beers.
At just 27, Hollie Bonneville-Barden, head designer at De Beers Diamond Jewellery, holds one of the most coveted creative positions in the luxury jewelry business. Claire Adler talks to a jewelry designer destined for a life of glamour.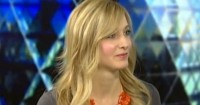 BY CLAIRE ADLER
Hollie Bonneville-Barden can date some pieces in her own jewelry collection back four generations. A geometric bracelet that belonged to her great-great-grandmother and was purchased in Burma regularly attracts comments for its strikingly modern design. As a child, Bonneville-Barden remembers spending entire afternoons listening to her grandmother tell stories about her treasure trove of heirloom jewels.
"My grandmother's husband traveled from Burma to England in the 1930s and brought jewelry with him from his grandparents," says Bonneville-Barden. "Hearing how far these jewels had traveled from a distant land fed my imagination from a young age and I'm still very sentimental about some of them."
Perhaps it's no surprise then that Bonneville-Barden is now on a mission to create talking pieces and heirlooms for a new generation.
After graduating with a first-class degree in jewelry design from one of the world's leading design schools, London's Central Saint Martins College of Art and Design, Hollie made her name at De Beers as a freelance designer and illustrator. But she had known for years she wanted to become a jeweler.
"I was initially inspired to become a jeweler thanks to my teacher Noon Mitchell, who introduced me to the jewelry workshop at Wimbledon School of Art, where I took an art foundation course," remembers Bonneville-Barden. "It was a really experimental time for me as I began to push the boundaries of materials. Mixing design with something so hands-on helped me see things in a new light."
Distinguished company
Bonneville-Barden's evocative drawings of jewelry designs appear in a book titled De Beers Jewellery, a celebration of the beauty of diamonds, published by the New York-headquartered specialists in lush coffee table tomes, Assouline. As a former student of Central Saint Martins, Bonneville-Barden is in distinguished company. Saint Martins alumni have a knack of hitting the A-list—whether it's Stella McCartney, Matthew Williamson, or Pierce Brosnan. Right after the book was published, Bonneville-Barden was approached to create the next high jewelry collection for De Beers.
"I am extremely honoured that De Beers recognise and nurture what I can bring to the brand as a young designer," says Bonneville-Barden, acknowledging the responsibility of her role. "I see it as a positive and unique collaboration between the strong diamond heritage and craftsmanship of the brand alongside my creative inspiration and drive for innovation."
At De Beers, the beauty of the diamonds is always of supreme importance and the starting point for any design. So while most people think about the four Cs (cut, colour, clarity and carat) as the ultimate barometers of diamond quality, De Beers has its own set of criteria which its diamond experts apply when choosing whether to buy a diamond—fire, life, and brilliance. Now, thanks to the proprietary Iris technology used by De Beers, customers can share in the experience of seeing every facet of a diamond closer up than ever before. The Iris function on an in-store iPad app means customers can now also look deep into the diamonds they buy, viewing the stone through the eye of an expert and seeing all its facets and sparkle in different light conditions—even low light.
Fascinating 2015 collections
Currently, Bonneville-Barden is working on concepts, designs, and prototypes for all De Beers collections that will be revealed in 2015, taking in bridal, high jewelry and the 1888 Master Diamonds and Creative Solitaires Collection, which incorporates exceptional diamonds selected for their beauty and mounted into timeless designs.
"The 1888 Master Diamonds and Creative Solitaires Collection is all about honoring diamonds of unique character and rare fancy colors," says Bonneville-Barden. "In every design, the natural beauty of the diamond—its intense colour, its cut and unique spirit—is the hero and the muse which provides inspiration for the whole design. Every design is intended to bring out the drama of the diamond."
The team are also gearing up for Paris Couture Week in July, during which De Beers will spend two days showcasing its most elaborate and highest-priced designs to 100 international fashion and jewelry journalists, who will be in Paris for the haute couture shows of leading fashion houses including Dior and Chanel.
In the coming year, the 1888 collection will be transported to invitee-only De Beers high jewelry events around the globe, during which Bonneville-Barden will conduct private meetings with De Beers clients to discuss new designs.
"Having a strong connection with our clients, understanding their ideas, tastes and personality is hugely valuable when creating unique bespoke designs," says Bonneville-Barden.
Imaginary Nature
When Bonneville-Barden created her first complete high jewelry collection for De Beers—eight jewelry masterpieces with a motif of wings and feathers called Imaginary Nature—pricing began at £265,000. She says the night that collection was unveiled in Paris at La Maison Champs Elysées was one of the most memorable moments in her career.
"I presented the Imaginary Nature collection to a VIP client who was wearing a grey diamond ring I had designed for her," remembers Bonneville-Barden. "It was an amazing hotel, with beautiful evening light that made the lady's ring sparkle beautifully. There is a special relationship with a client, even someone you don't know so well personally, that is based on a shared love for a piece of jewellery you've worked on together. The client ended up buying two pieces from the Imaginary Nature collection. It was magical."
—May 23, 2014
Claire Adler writes on luxury jewellery and watches for the Financial Times and consults luxury brands including De Beers and Fabergé. www.claireadler.com