Sparkle Exclusive | Stephen Webster: Goth, global, glamorous
Stephen Webster MBE—the British-born jeweler known for his goth style, celebrity clientele, and a global design business that has caught the attention of the Queen—talks to Sparkle about his biggest break and where he finds inspiration.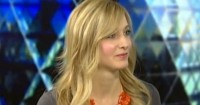 BY CLAIRE ADLER
When photographs of Stephen Webster appear on the social pages of the British press (which they do regularly) Webster is generally to be seen with his arm around one of his numerous celebrity friends such as Cristina Aguilera, Kate Moss, or artist Tracey Emin. A nine-time winner of the British Jewellery Awards, Webster's jewelry is available in more than 200 locations in countries spanning Australia, Azerbaijan, Korea, and the Cayman Islands. In the United States, Stephen Webster can be found at 125 retailers including Neiman Marcus and Saks Fifth Avenue. In some cities where a Stephen Webster boutique is located, Webster is treated as a celebrity in his own right. In Yekaterinburg in the former Soviet Union, Webster has been papped by waiting photographers.
It's perhaps hard to imagine then, that when asked what career he imagines he might have pursued had he not been a jeweler, Webster suggests he likes the idea of being a fisherman. "Something where you get to be outdoors all day," he says.

A grueling yet glamorous travel schedule 
As it goes, Webster doesn't spend a whole lot of time outside in the company of mother nature—nonetheless, in September he's planning to climb Mount Kilimanjaro for charity. A bench-trained goldsmith, his grueling schedule requires him to have traveled in the last month alone to Las Vegas, Los Angeles, the South of France, Tokyo, Singapore and Edinburgh. Next week the allegedly London-based Webster is off to Miami and New Orleans.
Not that he seems to mind.
"America is a second home to me after living there in the '80s and building my business there," he says. Today, part of Webster's company is owned by American supermarket and private equity billionaire Ron Burkle, through his Yucaipa Companies. They were introduced by mutual friend Cristina Aguilera.
Back in the 1980s, after initially launching his career in the UK and Canada, Webster identified an opportunity for his flamboyant designs in California. It was here he had his first big break.
"Elizabeth Taylor bought a piece of my jewelry in Santa Barbara. It was a rose gold ring engraved with flowers and set with a lavender chalcedony stone, to match her eyes. The first person I called was my mum back at home in the UK," remembers Webster.
Growing up, Webster was drawn to art far more than his academic studies. Aged 16, he enrolled in a fashion course at art school and almost never became a jeweler. "By chance I walked into the jewelry design class. The flames, noise, chemicals and shiny objects were instantly appealing and much more up my alley than fashion. I became completely obsessed with the techniques of making jewelry and found I could make anything because I got so good at it. It was like a love affair," he says. "At first my real passion was making jewelry. Designing really came a bit later in life. I believe jewelry can only be beautiful if it's beautifully made."
Inspired by Great Britain
While he gears up for an intensive fall that will see him tour his stores for pre-Christmas promotional events, Webster is currently putting the finishing touches to his newest men's collection, which incorporates innovative ceramic technology. Webster's recent collections have had a definitively British feel—from Magnipheasant which depicts the iridescent plumage of the pheasant, an exotic bird found in the English countryside, to Lady Stardust, a collection inspired by a lightning bolt motif on the Aladdin Sane album cover of Webster's lifelong hero, David Bowie, and to Stargazer, a playful reference to an English delicacy called Stargazy Pilchard Pie, interpreted as a gem-set cascade of stars in the night sky.
Against a backdrop of travel, glamour, and the demands of running one of the largest jewelry manufacturing and design studios in London's West End, Webster is also a director at Garrard, a British jeweler with an illustrious royal history, and now also owned by Yucaipa Companies. A representative from Garrard accompanied King George and Queen Mary's crowns at all times on the Royal Yacht in the late 19th and early 20th century. In 2013, Webster received his very own royal seal of approval when he was appointed Member of the Order of the British Empire in the Queen's 2013 New Year Honours list for services to training and skills in the British jewelry industry.

Webster's sensitivities—to his materials and his audience
Throughout his career, Webster has been an advocate of ethically and socially mined materials, traveling to mines in Tanzania and Peru to meet the mining communities and trace the sources of the materials he works with. He is now an ambassador for Fairtrade and Fairmined Gold and works closely with Forevermark Diamonds, a brand of inscribed diamonds designed to increase the transparency of ethical business and environmental practices.
With a client list that reads like an ever-expanding rollcall of the showbusiness elite, including Rihanna, Jay Z, Russell Brand, Elton John and Jennifer Lopez, it's Webster's personality as much as his jewelry that has helped him attract clients from Korea to Kiev, and Paris to Puerto Banus.
"I love the challenge of going into a room and winning people over," says Webster. At one of his American events recently, Webster overheard a man say he wasn't impressed by the catwalk show, even though it was clear his wife was enamoured. "I went over to the guy who was a bit embarrassed and I was completely cool about it. We started chatting about sports and had a great time."
—July 2014
Claire Adler writes on luxury jewellery and watches for the Financial Times and consults luxury brands including De Beers and Fabergé. www.claireadler.com