Sparkle feature | Dreamy, bold, playful: The designs of Catherine Prevost
Florida born jeweller Catherine Prevost, who lives in Windsor, England, has created a business the likes of most aspiring jewelers' dreams.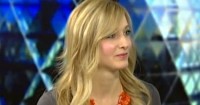 BY CLAIRE ADLER
It would be hard to find another jewelry designer who uses the bar in her own home as the location for her own photo shoot, with a model wearing clothes she has carefully styled and selected right out of her own wardrobe. Or who, while giving birth to her first child, was urged on by her mother who surprised her by donning her "huge sparkly heirloom deco brooch of diamonds and emeralds to match the scrubs" in order to inspire and help her through. Or who sells her jewelry on netaporter.com only because the site's legendary founder Natalie Massenet CBE is a regular customer and has remarked that it would be a crime for her to stop selling jewelry just because of family commitments.
But Catherine Prevost has done all of these things and many more. "I've always had jewelry in my life," says Prevost. And having heard that labour story, there's no arguing with that.
Starting young
Prevost's mother was instrumental in fanning the flames of her daughter's passion for design and jewelry from an early age. "We moved to New York when I was seven and my mother took me regularly to the Cooper-Hewitt Museum and the Metropolitan Museum of Art," she says. Prevost would go on to intern at Cooper-Hewitt and study at Christie's in London, where she discovered her passion for jewelry.
"My mother, who trained with American landscape photographer Ansel Adams, is a jewelry designer who ended up keeping all her designs," says Prevost. Presumably this explains why Christie's is currently evaluating Prevost's mother's jewelry collection and has allocated two weeks for the task.
Prevost began selling jewelry to Bergdorf Goodman, Neiman Marcus, and Saks. Aged 30, she struck out on her own and opened a shop in London's Chelsea. A decade later, when her fourth child was born, she closed her shop and continued selling to clients via trunk shows in London, Chicago, Palm Beach, Los Angeles, and Toronto, usually in the homes of her clients, including Emily Blavatnick and Erin and Jane Lauder.
"I don't feel the need for a shop right now because my core clients keep coming back to me," she says.
Nowadays, Prevost's creativity extends to her personal collection of baby slippers— she has Tibetan, Venetian, Chinese and American versions and is currently on the lookout for some Dutch clogs— as well as her menagerie of porcelain pumpkin, cabbage, and pomegranates hailing from Istanbul.
Achingly glamorous
I meet Catherine Prevost when I am with her photographer Dan Stevens, who is taking photos of me for a magazine. On the way to the shoot we stop by Prevost's London trunk show to borrow some jewelry from what appears to be a living room with impossibly high ceilings in her mother's achingly glamorous London home, a three-minute walk from the Royal Albert Hall. As I swipe through my iPhone showing Prevost snaps of my planned outfits for the shoot, she proposes more and more jewels from the trays on the table in front of us to match each of the looks. There are endless bold and playful cocktail rings of wood and agate, malachite, matt and faceted rock crystal, and Tigers eye with rows of carefully set diamonds and smooth, tactile finishes, gorgeous beaded necklaces and a 1960s inspired Palm Beach collection in white agate, coral, and jade. Not a piece in sight is more than $15,000 and most rings are around $4,000, making this very much jewelry for successful women to gift to themselves.
"I often opt for stones many people aren't familiar with. It means many people don't know how precious the jewelry is. When you're travelling you can feel relaxed and safe wearing it. Women keep it on for the school run, the office and an evening event. My jewelry translates well into many cultures. The Italians like the clean modern look, the Americans team it up with casual sportswear and the Brits mix the pieces up in their own individualistic way," says Prevost.
Celebrity following
A lively celebrity following at Prevost's former Chelsea store included Sarah Jessica Parker, who shopped while her husband Mathew Broderick waited patiently in the armchair. "Gwyneth Paltrow came by wearing her yoga gear and was so friendly and never once asked for a discount," says Prevost, who recalls a certain British prime minister's wife coming in and asking if she could have jewelry for free.
"I love beautiful design," says Prevost, when asked what motivates her most of all. "When you're a designer, it impacts every area of your life. In my home, every table and the position of every item has to be just right and that gives me enormous pleasure. If my husband moves a chair, I'll move it again to get it looking just right. I adore watching people feel prettier when they put on my jewelry."
When photographer Dan Stevens recently photographed Prevost and her jewels at her Windsor home, he says it was a truly unique moment. "The way we shot Catherine's jewels could not have been more true to the designer and her personal style. Catherine has chosen every detail of the interiors of her home. She essentially styled the entire shoot using her own props," says Stevens, who became friends with Prevost on a magazine photo shoot in Spain more than two decades ago.
Despite the high life Prevost appears to lead, she surprisingly claims her routine is not as glamorous as many might think. "When I'm at home, I'm often out with my children in my wellies. I'm an outdoors girl. Yoga and riding are my things. They make me happy."
—June 2016