Sparkle feature | Talking work and pleasure with the creative director at David Morris

From a golden bubblegum dispenser to allegedly affordable jewels for women, Claire Adler catches a glimpse into the world of vivacious David Morris creative director Erin Morris.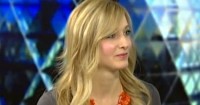 BY CLAIRE ADLER
London headquartered jewelry maison David Morris has been called the James Bond Jeweller because its gems have been featured in three 007 films, including—but of course—Diamonds are Forever. A classic necklace with 22.98 carats of diamonds which appeared in Tomorrow Never Dies is, to this day, a best-seller.
The company—which employs 48, has 12 stores, and is known for its rare gemstones and seven-figure price tags—is now in expansion mode. A store in the Qatar capital, Doha, opened in the spring, and a Paris store opens this fall.

Magnificent diamond bracelet
"Right now, we're focusing on opening more stores while still keeping it a family business. We're growing slowly and we're not growing too large," Erin Morris tells me.
During a recent unforgettable visit to the Bond Street store and its workshop upstairs, I was shown tray after tray of dazzling jewels. In under 10 minutes, I had tried on three pieces of jewelry collectively priced at a staggering $65 million. The highlight was an eye-popping cushion-cut diamond bracelet with a magnificent 59.89-carat diamond at its center, which was cut from the rough in New York over a period of eight months. Surrounded by pink diamonds, the bracelet, with its price tag of a cool $32 million, was due to be presented to potential clients at David Morris boutiques worldwide. The central diamond hails from South Africa's Cullinan mine, the source of the Cullinan Diamond, which at 3106 carats in the rough remains the largest rough diamond of gem quality ever discovered. The largest gem cut from the Cullinan Diamond is the pear-shaped 530.4 carat Cullinan I, the world's largest polished white diamond, which currently sits in the Queen's Crown Jewels in the Tower of London.
"I get really excited about gemstones and beautiful sparkly things in the same way that people think about paintings or become fixated about fashion items," says Morris. "I adore the conch pearls, Paraiba tourmalines and Padparadscha sapphires we're currently working with. It's fantastic making the marriage between these gemstones and the people who wear them."

Forever on vacation
Creative director Erin Morris is the wife of managing director Jeremy Morris, son of the company's founder. Theatrical, glamorous, and accessible, Morris conveys the impression she is forever on vacation—a trait popular among jewelers who are selling the dream of impossibly expensive items, responsible for building long-term relationships and reluctant to engage in anything that might resemble a hard sell to their clients.
When asked what a typical day at David Morris is like, Erin Morris claims she doesn't consider her job to be work at all. "Well, everything is work and everything is pleasure," she says luxuriously. "I've recently returned from buying gemstones at Basel, visiting the art and design show PAD Vernissage with my daughter in Paris, where we talked to people and ate amazing food, and I'm about to spend a week's vacation with my daughter in the Maldives. We are in the business of art, beauty, luxury and sharing special moments. It's about great, long-lasting relationships. Jewelry is personal and it's bankable. My role veers between design and meeting clients and things tend to happen organically," she says.
One of the surely most outrageous bespoke commissions David Morris has ever been asked to create is a golden bubblegum dispenser for a royal customer: the Sultan of Brunei. While David Morris undeniably sells jewelry to the world's richest, a recently introduced collection, Pearl Rose, has opened up David Morris jewelry to a whole new audience, with prices from £5,300. Vibrant colored white, cream, pink, and silver pink Akoya pearls blend indulgently with rows of diamonds and coral beads.
"Today, it's not just about women waiting for their husband to buy jewelry. We also want to attract the 28-year-old banker who has just earned her first big pay cheque and wants to treat herself to a two-carat round brilliant pendant. At the moment, I'm crazy about our tassel necklaces. They're affordable and timeless and women can buy them for themselves and wear them in different ways," says Morris, before clarifying that the tassel collection ranges in price from £30,000 to a cool £150,000.

London, a creative capital
Though Erin Morris married into the business, she was born into an American jewelry dynasty. Her family runs a gem business in Washington, D.C., established by her great grandfather who moved to America from Ireland in 1929. After studying fine art and English at the University of Arkansas, Morris studied gemology at the GIA in California before working for four years at Fred Leighton on Madison Avenue in New York.
"Fred Leighton has the best breadth of historic jewelry I've ever seen—from Egyptian to Mughal Indian, to Deco and 1940s jewelry. I had a fantastic four years working there," says Morris, who later met her husband at a jewelry and furniture show in Palm Beach Florida in 1998.
"I remember meeting Jeremy for the first time in his green-checked Richard James suit and bright orange tie. We were competitors at the same show. I was convinced he was trying to steal our clients," she smiles. The couple married in 2003.
If ever Morris is in need of inspiration, she has London to thank for restoring her creative spirit. "Living in London is such a gift. I find my best antidote to feeling stuck creatively is going to the Royal Academy of Art across the road from us, walking along Mount Street, or visiting The Tate. I recently went back to the Calder exhibition there three times. London rejuvenates me creatively."
***
Summer 2016