Lauren Cerand: She Was Right There With It
[portfolio_slideshow include="2398″]
BY LAUREN CERAND
We were standing waist-high in the shallow end of Cayuga Lake when my mother confided in me that one of her aunts on her father's side had told her that they were slightly skeptical of her mother, and her ability to temper her wild streak; this Alabama girl known for diving off cliffs in her white swimsuit, in contrast with her dark waves.
There just wasn't an established tradition for that sort of thing in Mississippi.
Lately, I've been thinking about chances, and risks, and what it feels like to leap. After a dozen years in New York, I feel like I may be moving toward another chapter of my own. When I went to New Orleans for the first weekend I'd taken off in two years, I realized that two days was not enough. When I decided to take the summer off and spend it in the pastoral countryside of Upstate New York, I realized that two months was just long enough to think, really think, about the decisions I've made in the last decade.
One night after midnight, I sat out in a field at my dad's place with his girlfriend, who is French, and him, watching the Perseid meteor shower flare the occasional trail through a raft of clouds and I said something about the light from distant stars traveling thousands of years to get to us, and she said, "That makes me sad. I don't know why."
I loved it because it was such a French attitude, to be okay with a touch of melancholy.
I went to Texas and I wished I were in the desert. I went back to the country, and I swam almost every day. At night, the sound of the crickets was deafening. Rabbits, deer, and a variety of other wildlife criss-crossed the lawn day and night. Every day was guided by one or two tasks: Frame the signed photos of silent film stars that my paternal grandmother left in her papers. Look up the typewriter repairman who makes housecalls. Plant a promenade of potted white flowers on the front walk, in homage to Diana, goddess of the moon. Have too much wine at dinner and send a dumb love letter, a flare shot across dark, distant night that sinks, unbidden, into mist.
That made me sad. I do know why.
I came back to New York just twice, once to read a passage from the 1950s coming-of-age classic Chocolates for Breakfast, in which the heroine finds a man under her thumb, and another night, to attend a party at a famed hotel in honor of one of the world's last kings. The diplomat who invited me later comes to the country and teaches me to kayak. It becomes the touchstone of my days, driving the Jeep up the lake, taking out the boats.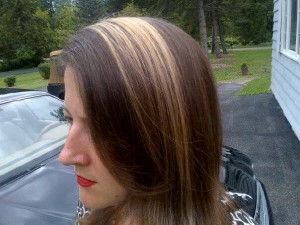 Just before the end of the summer, when I thought I might retire to the woods forever, I went to London, and, as expected, had to purchase more formal clothes, mastered a chignon, and was barely in my first black cab, roaring toward another private club when I predictably thought to myself, This is my real life. It's hard not to love a place where men wear perfectly tailored suits, and stand when a woman approaches the table.
One night while I was there a very handsome man whom I had just met, younger, mysterious, with tobacco eyes, kissed me in a rainstorm, and when I left without saying goodbye, tracked me down and left a message for me that said simply, I miss you.
I kept a diary of the trip, which includes passages such as, "Night flights –– all the romance of a dream! As the city sleeps, you swirl past stars," and "The man who insists women aren't capable of soft power has since bought two bottles of wine."
In Brighton, just before a wedding, I walked down from Hove to the Royal Pavilion, and on my way back, I wandered the tightly-woven cobbled lanes and passed an antique shop with a letterpress print in the window that quotes the Scottish writer Alexander Chalmers: "The three grand essentials of happiness are: Something to do, someone to love, and something to hope for." I choked up the first ten times I recalled it. Now it makes me smile.
That day I bought a bracelet in a bakery. Well, a cafe that doubled as an interiors and lifestyle shop. It's a thin bangle, just a simple line of shimmering diamante chips. "How much?" I asked. The woman replied. "Ninety?" I said. Worth it. "Nineteen," she said.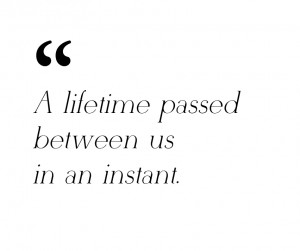 At some point, I started to record catty things I thought in passing and admonished myself to "Focus on the positive, the small observations and the things that make a place and people very much themselves and their own thing. For instance, club has potable water and double bed but no promise of mischief."
I do like mischief.
I took the train from London to the sea, and spent the whole time admiring the view and thinking of a Sybille Bedford novel I enjoyed but put down after the heroine lost a ruby ring she left on the basin after washing her hands on a train trip a few pages in. It reminds me of the pearl ring I bought in Paris last winter, too big to wear, a sweet kind of agony whenever I do. The older woman in the shop encouraged me, and after I tried to say in my broken French, "If I ever have a rich husband, I'll come back," she looked at me with a mix of pity and wisdom that I'll never forget. A lifetime passed between us in an instant, as I realized that everything in her shop, armoires, vitrines, stuffed stag's heads, seemed to be compacted from some larger place, unlocked only with skeleton keys, and perhaps the stack of very tattered philosophy paperbacks next to the register.
One night in London, I sat at the bar at Scott's in Mayfair, a punishingly expensive seafood joint, and ate oysters and caviar and asked myself if could really let it all go. Just before I'd left, I'd spent days trying to find a proper wedding hat in a small town. I ate oysters, still swimming with the sea, and razor clams with wild boar sausage, and I thought of the platform out in the lake, where I recently swam further than ever before. I wrote a friend whose friendship I thought I'd lost, and said I'd like to have it back again.
I had a drink with a friend and a laugh about that earlier night in the rain, when he said, "He was holding your hand, quite well, I thought." I realized all I don't know about anyone.
In Brighton, it rained long enough to drench everyone walking to the reception. I seemed to be the only person who was unsurprised that it rains in England. Champagne flowed freely at the reception on the waterfront, and we were all urged onto the carousel. Moments later, I was sidesaddle, flute in hand, hat on head, holding on.
A few weeks later, I was wearing the bracelet from the bakery on a cross-country flight to the Pacific Northwest when it disappeared at some point from my wrist. "Well, you were playing with it," a friend points out. I glumly agreed, bereft. And then I decided it was called into cosmic service, and belonged with whoever needed it most in the world.
Later, it unexpectedly turned up and I slipped it back on.
The last day that I was in the country, I took out a page from a 1932 magazine column written by my paternal grandfather, a flapper hairdresser-to-the-stars: "The two-tone coiffure has taken London by storm and has had its effects on coiffure-demands in New York as well. I have had requests for this style from many of my clients recently returned from the smart resorts abroad… this two-tone arrangement satisfies the vanity of the ultra chic…"
I had one done. It does.
—
Lauren Cerand publishes notes on living at luxlotus.com.
-October 2013
—
Also by Lauren Cerand:
Aphrodite and the Hundred Years Rule
Postcards from the Fairy Kingdom