Sparkle feature: Behind Faberge's Easter at Harrods
While one man was recently revealed to have come close to melting down a $34 million Fabergé egg for scrap gold, another historic Fabergé egg, the Apple Blossom, rumored to be worth $50 million, has now gone on display in a non-museum setting for the first time ever. The venue? Harrods, of course.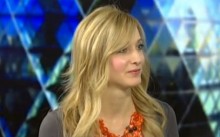 BY CLAIRE ADLER
Legendary London department store Harrods is no stranger to high security and high luxury.
Earlier this year, Harrods teamed up with British Airways to stage a series of invitation-only sky-high catwalk shows for 200 VIP guests. They are celebrating new routes on the A380 aircraft with an event at over 35,000 feet that featured top-flight British fashion designers, including Jenny Packham, Victoria Beckham, Matthew Williamson, and Temperley London. The anything-is-possible Harrods attitude means that the store has 330 departments with services including the Harrods Bank and Gold Bullion.
And now, a year in the making and timed to coincide with Easter, the latest creative collaboration to touch down at Harrods has seen celebrated jeweler Fabergé inaugurate window displays that wrap around the entire building, drawing attention to an in-store Egg bar, where you can have a Fabergé pendant personally engraved on the spot; a pop-up salon featuring the entire dazzling collection by Fabergé designer and Parisian artist/jeweler, Frédéric Zaavy; and a Fabergé Cinescope thought up by Russian socialite and Buro 24/7 blogger Miroslava Duma, enabling visitors to try on jewelry via a digital mirror—as well as create animation portraits of themselves—alluding to the portraiture on historic Fabergé eggs, which can be shared via social media. This, all while the highly prized and well-guarded Apple Blossom Egg from 1901, crafted in gold, diamonds, and nephrite, is also on display in the fine jewelry hall. Meanwhile, Harrods is offering a limited edition Spiral Tassel Pendant with a diamond-set egg finished with a choice of an amethyst, tsavorite, or spinel tassel.
As luxury brands increasingly align themselves with bloggers—now referred to by marketing professionals as "digital influencers"—with the largest followings, Fabergé's collaboration with chic Russian Miroslava Duma is very of-the-moment.
"Miroslava Duma is a modern-day Tsarina, with her glamorous allure and sophistication. She is also a successful, accomplished digital innovator with an exceptional sense of style," said Fabergé 's creative and managing director Katharina Flohr, one of the most glamorous senior executives of a luxury brand in all of London. "Personally I have always loved Harrods for its unsurpassed customer service and for being the premier source for unique and exquisite gifts."
In a recent diary column in the online edition of glossy luxury magazine How To Spend It, published by the Financial Times, Flohr recounted in detail the intimate candle-lit classical music concert she held for 50 guests in her country home previously owned by American artists John Singer Sargent and Edwin Austin Abbey, with musicians dressed in tailcoats and couture ballgowns, and walls adorned with charcoal paintings of classical musicians.
Flohr's stylish credentials—a former fashion and jewelry director at Russian Vogue, Flohr also worked closely with the style icon Isabella Blow—chime well with Fabergé. Founded in 1842, Fabergé  became the official goldsmith to the Russian Imperial Court, bringing forth magnificent jewels and objects in imaginative, vibrant coloured gemstones and enamels, introducing its first lavish, jewel-encrusted Imperial Easter Eggs for Russia's Tsars in 1885.
The Tsar placed such trust in Peter Carl Fabergé  that even the Tsar didn't know what a Fabergé Egg commission would look like until the moment it was delivered and unveiled. Each one contained a surprise, whether it was complex jewellery techniques or moving automata.
Fabergé  creations have been owned by six generations of the British royal family, starting with Queen Victoria and continuing today with Queen Elizabeth II and clients have also included the Rothschild and Vanderbilt dynasties. Elizabeth Taylor owned a Fabergé egg pendant crafted in gold, moonstone and blue guilloché enamel, gifted to her by her friend and Fabergé collector Malcolm Forbes.
Only 50 Fabergé  eggs in total were ever made for the Russian Imperial family. The whereabouts of just 43 are known today.
When one scrap metal dealer who had bought an egg at a bric-a-brac market in America, to be melted down for its gold, was told the egg was in fact a $33 million Fabergé  Imperial Easter egg, he almost fainted. He had paid $13,000 for it, hoping to turn a quick profit in the hundreds-of-dollars range. The egg lay around in his kitchen for years until one night in 2012 when he Googled 'egg' and 'Vacheron Constantin,' the name etched on the timepiece inside. After finding an article titled 'Is this £20 million nest-egg on your mantelpiece?' featuring a picture of his egg, he contacted a Fabergé  expert named in the article at London antique jeweler Wartski. He had the surprise of his life when he discovered his egg was originally designed by Carl Fabergé for Tsar Alexander III in 1887 and seized by the Bolsheviks during the Russian Revolution. Wartski has since bought the egg on behalf of a Fabergé  collector, while the metal dealer has decided to remain anonymous in light of his newfound fortune.
Across the pond from Harrods, New York Fabergé enthusiasts are embarking on an egg hunt of their own this month, witnessing 260 large egg sculptures designed by artists, designers, and architects, including Jeff Koons, Tracey Emin, Julian Schnabel, Ralph Lauren, Zaha Hadid and Tommy Hilfiger. With the help of TheBigEggHunt app, participants can enter a sweepstake to win one of three jeweled prizes by Fabergé. The initiative culminates in a grand auction hosted by Sotheby's on April 22, when the giant egg sculptures will be sold, with proceeds going to conservationist charity Elephant Family and arts education charity Studio in a School. (Meet three of the Fabergé Big Egg Hunt's artists.)
—April 16, 2014
Claire Adler writes on luxury jewellery and watches for the Financial Times and consults luxury brands including De Beers and Fabergé. www.claireadler.com